On this post we will document the process for setting up JADE wallet, we will be using Android as the mobile operating system, this set up can also be done on iOS via Bluetooth and I did not get to try this but it maybe possible to also doing using your desktop.
You will need a USB A to USB-C cable I ended up using the one provided with the Jade also a USB-C to USB A adapter to be able to connect to the Android device, the recovery sheet that comes with your Jade, the getting started card and of course the Jade it self.
NOTE: I tried the pictured cable USB-C to micro USB with a micro USB to USB-C adapter to go from the USB-C on the Android device to the USB-C on the Jade and it did not work for me
Before you follow any of the guides below please ensure your jade is fully charged Blockstream suggests to charge it for two hours.
NOTE: once the Jade is connected to a USB port either on a computer or a mobile device the jade does charge the battery.
Following the getting started guide the first step is to install Blockstream Green software wallet on the device you will be using to setup your Jade.
2. After Green wallet has been setup next step is to follow the instructions you'll find at Blockstream Jade site under setup guide.
3. Next follow the instructions.
4. Next turn on the Jade and select initialize by clicking on the select button.
5. On the next screen select New.
6. Next you will need to record your recovery phrase in the sheet provided or in a piece of paper and verify it.
CAUTION: No shortcuts on this step this is extremely important if you for any reason loose control or your Jade stops working you will loose access to any of your funds if the recovery phrase is not available.
7. It is now time to connect the wallet to your Android device, you will be asked your method of connection either USB or Bluetooth in my case it was USB.
8. Once detected by your device you will be asked to open Blockstream Green software wallet.
9. As soon as connected with Green and the Jade was selected a new firmware notification popped up, I selected to continue. I figured is better to be on the latest and greatest firmware from the get go.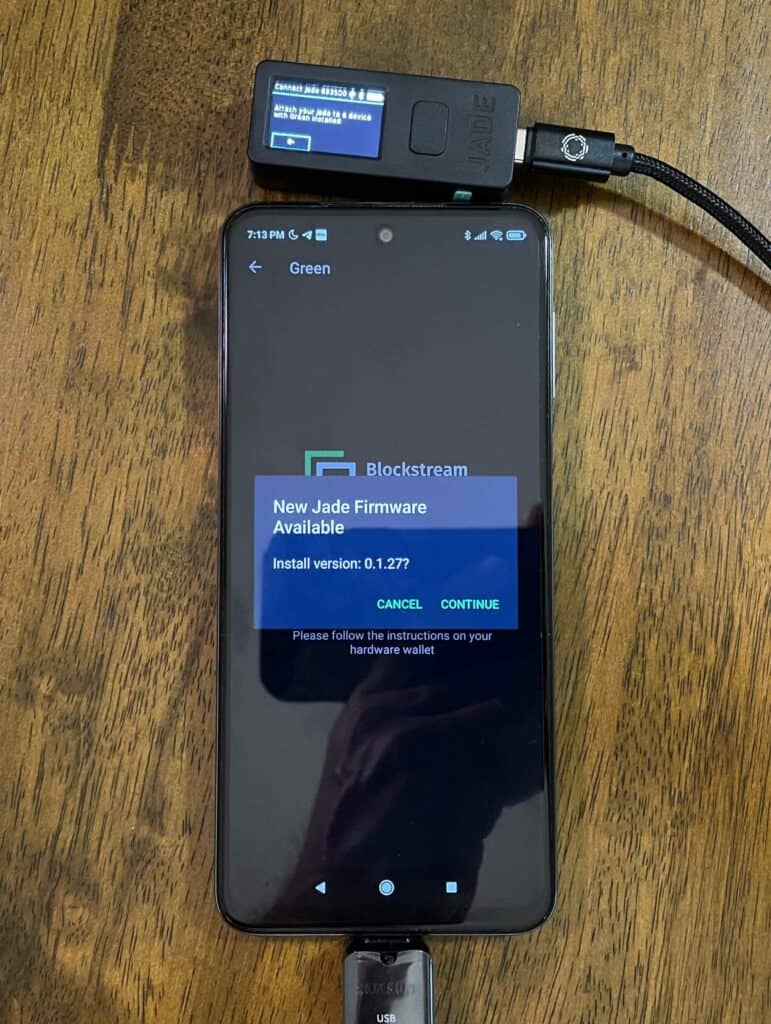 10. The firmware upgrade did not go well and it failed a few times for me, it started loading fine but after sometime loading and the bar going in the correct direction and increasing in percentage it would give me an error with a simple OK.
Twice this error was ERROR_BADDATA with and OK button, the other time was ERROR_TIMEOUT also with an OK button. The real problem was that once the messages came up the Jade would freeze and the only way I could leave the screen was to turn it off and then back on which made start the process again so i ended up with 5 sets of recovery fra
11. Eventually I got passed the firmware update a was able to proceed to select the network I selected bitcoin and the was asked to enter a six digit pin. Once you set up the pin you are ready to go.
Keep in mid that the experiences above may not be the same for all, other reviews that I have seen do not mention any issues and this maybe the case for you and I am not sure why this happened to me, in any case I hope this guide helps you and gives you some insight in case you run into the same issues I have.
I will do an review containing my impressions of the Blockstream Jade hardware wallet as far as quality of build and software impressions. I will also work on a guide to set it up using the specter desktop wallet.
Thank you for reading.